Build Apps 2x Faster with Heroku
Develop custom software that will move your business forward 2x faster with a powerful PaaS in Heroku.
Schedule a Free Consultation
Any Business can be a Technology Leader
We believe that every business, including non-tech businesses, should be able to build and launch meaningful software. Heroku removes the need for DevOps, greatly accelerating the development process and reducing the number of developers needed to stand up and manage an application. Heroku allows small teams to do big things, making it easy for non-tech businesses to compete in a digital era.
300+
Heroku Projects Delivered
Since our inception 8 years ago, we've helped over 200 organizations build successful technology on Heroku.
6 Years
as an Official Heroku Partner
In 2014, Heroku reached out to LaunchPad Lab to join their Partner Program because we had built so many applications on the platform. Since then, we have helped hundreds of businesses take full advantage of the powerful platform Heroku provides.
Add-On in the Heroku Marketplace
LaunchPad Lab built a Heroku Add-On which accelerates the process of developing a Salesforce-integrated web or mobile application.
LaunchPad Add-On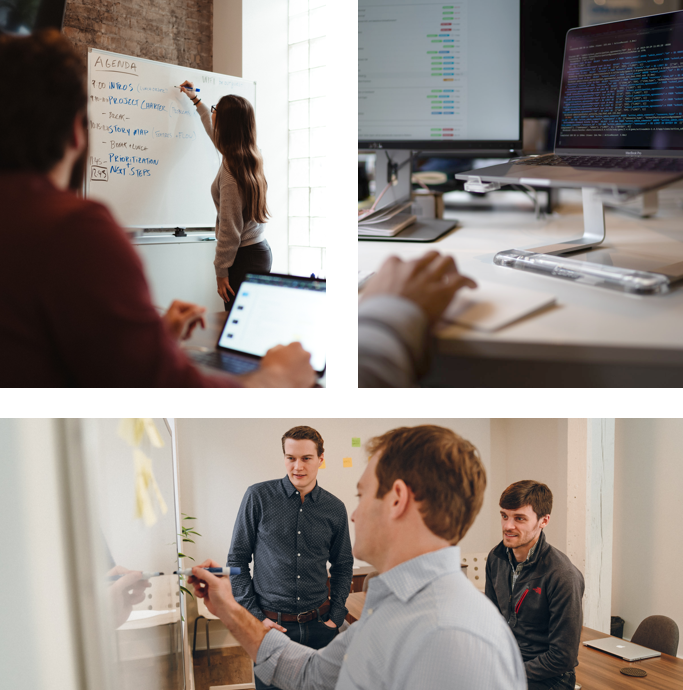 Get Started
Getting Started on Your Project is Easy
Blueprinting Workshop

Collaborate with us to create a plan through our Software Blueprinting Workshop.

Software Delivery

Move into the Delivery Phase where LaunchPad Lab will design and develop the solution in ~3-4 months.

Maintenance & Support

Our Ongoing Success team will make sure your software is proactively maintained and supported over the long-term.
We Have Your Back
We'll Help You Avoid These Common Mistakes
Falling Behind

In 2021, if you're not constantly evolving your business' technology, you're probably falling behind. Companies that don't work to innovate will stagnate and eventually be displaced by bold competitors.

Building Technical Debt

Many of our clients come to us after failing to build their solution with another vendor. Either they hired an offshore development team or tried to get by with a freelancer, only to be left with a pile of throw-away, hacked-together code. It may seem cheaper at first, but these strategies, in the end, will cost you valuable time and money.

Launching a Dud

More often than not, our clients' vision for the software needs to be tweaked to be successful. Like a patient that thinks he knows the remedy to his illness but in fact does not have the expertise to diagnose such a thing, our clients have an idea about what the solution could be but should still rely on a software expert like LaunchPad Lab to prescribe the solution.
Ready to Build Something Great on Heroku?
Partner with us to develop technology to grow your business.