Customize Your Centaman Checkout Experience
Sell more experiences and drive more revenue through a unique checkout experience.
Contact Us
Why We Like Building on Centaman
The Foundation To Building Unique Ticketing and Membership Experiences
Centaman is a Point-of-Sale (POS) system used by various tourism attractions, including water parks, amusement parks, museums, galleries, cultural sites, zoos, aquariums, and more. With the Centaman platform, organizations can easily sell tickets and memberships, order food online to avoid lines and enable customers to manage their reservations entirely online. By combining LaunchPad Lab's team of designers, developers, and product managers with Centaman's capabilities, our team builds unique user experiences that help convert visitors into customers.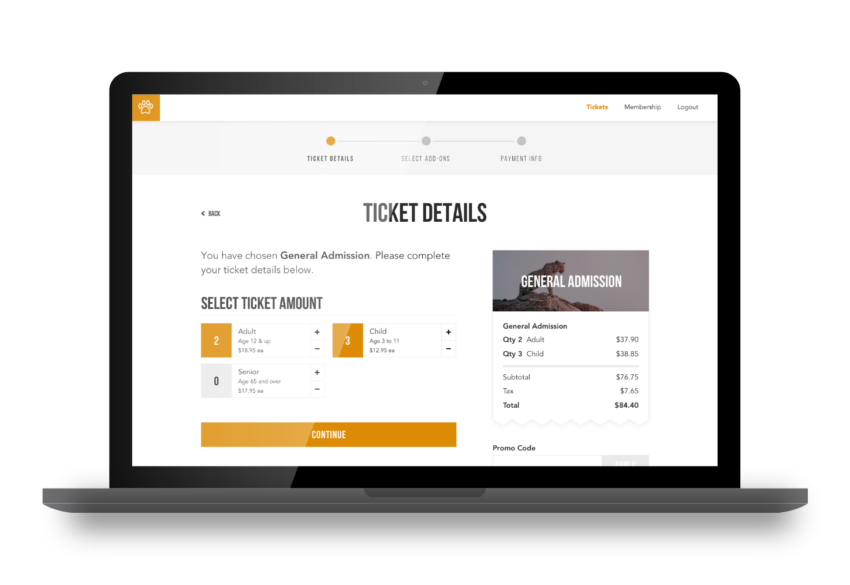 After years of collaboration with tourism businesses, LaunchPad Lab noticed a common request: A unique, user-friendly checkout experience. As a result, we built a product that fully integrates with Centaman's API and ensures a custom-designed digital experience for each organization. This product maximizes Centaman's powerful infrastructure for membership sales, ticket reservations, and online stores—but takes the customized features to the next level.
We've also built an integration with Spreedly, a leading payment orchestration platform, to provide the ability to process payments across multiple payment gateways, authenticate credit card information, and securely store payment details.
Omaha's Henry Doorly Zoo

Nation's Top Zoo Handles Over 25 Million Annual Visitors with New Ticket Application

View Case Study

New York Cruise Lines

Creating an Accessible Ticketing Experience

View Case Study

Chicago Line Cruises

Purchase Tickets Online for Narrated Boat Tours

View Case Study
Reach Out
Ready to Build Something Great?
Partner with us to develop technology to grow your business.