Team Member Spotlight: Kate Weingart
By: Rebecca Jasch / March 23, 2021
LaunchPad Lab's team is full of people from various backgrounds – and we love the experience they bring! Today, we wanted to spotlight Kate, who was a Biomedical Engineer before joining LaunchPad as a Developer.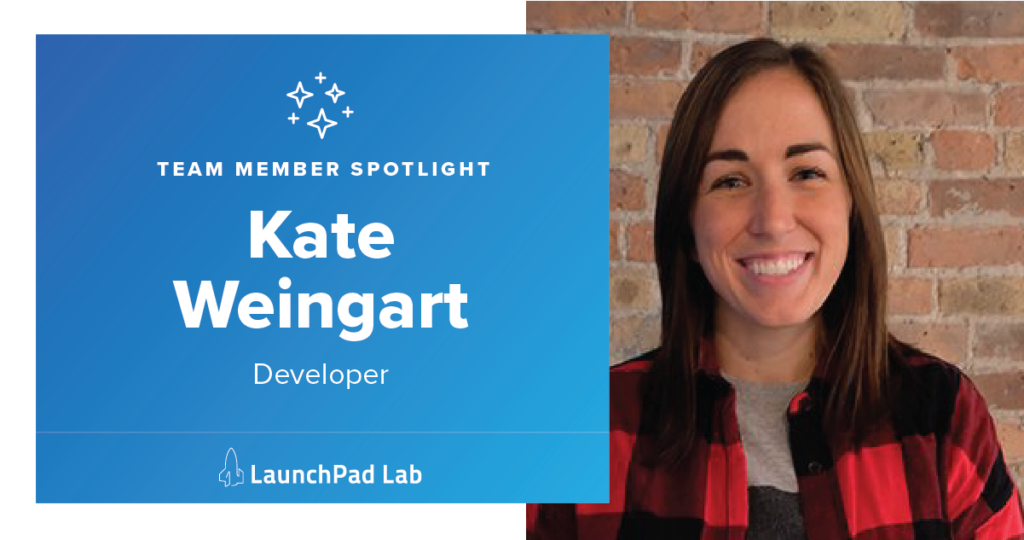 Kate loves solving problems, and she believes that any problem can be conquered with a collaborative team, a thorough flow chart, and an ample supply of coffee. Before discovering all three at LaunchPad, Kate honed her analytical and organizational skills as an engineer and project manager in the medical device industry. When she's not cheering on her Cleveland sports teams, you can find Kate at small concert venues listening to bands you've never heard of.
"Kate is an excellent developer and team member to work with. She eagerly takes on new challenges and our clients love collaborating with her!" – Ifat Ribon, Developer Manager at LaunchPad Lab
Get to know Kate with the Q&A below:
Q: What do you tell people that you do?
A: I tell them that I am a software developer that builds web apps. Usually, they look confused thinking I build phone apps, and I then explain I help build websites.
Q: What did you do before you became an LPLer?
A: I was a Medical Device R&D Engineer.
Q: It's 10 am on Saturday. What are you doing?
A: On Saturdays, I'm usually doing something outside with my family like walking on the path by the beach or in a park.
Q: What music do you gravitate towards when you have to be extra productive?
A: I listen to the same music no matter what I am doing. I usually gravitate towards Folk & Americana for all situations.
Q: What's the first CD or Album you ever purchased?
A: I think it was Backstreet Boys – Backstreet's Back.
Q: A favorite LPL moment so far?
A: I really enjoyed the week I traveled back to Chicago and was able to celebrate my baby shower, enjoy the quarterly review and offsite, and just get some time to sit in the office around my coworkers.
Q: What inspires you?
A: My family, my friends, and music. People, in general, inspire me. I love hearing success stories of people for either their personal or professional life. And of course, a really good Disney movie.
Q: What's the best concert you attended?
A: This is so hard for me. I love concerts. One of the concerts that sticks out to me the most is Lone Bellow in Cincinnati at Memorial Hall in around 2014. Others were Lumineers when they opened up for Old Crow Medicine Show in around 2012, Matt Mason in 2017. All of the Caamp concerts and all of the Mumford and Sons concerts. Lake Street Dive, Jamestown Revival… man I think I could go on forever. It is really hard to pick a "best" concert. They are all so good for so many reasons. Mostly love small venue concerts, but I always love to see my big-name favorites as well.
Q: What's the last book you read?
A: I recently read 'Mom's on Call.'
Q: What are you currently watching on Netflix?
A: I'm currently watching Ozark.
Q: Do you have a pet?
A: Yes. I have a golden retriever named Murphy. He LOVES cuddling and sleeping, but also loves running on the beach and destroying every stick in sight.
Q: Do you collect anything?
A: I collect stickers from breweries, concerts, and national parks. They get put on our Yeti cooler.
Q: Favorite quote?
A: "Oh, no. To live… to live would be an awfully big adventure" — Peter Banning, Hook
If you want to stay up to date with Kate and the LPL team, feel free to connect with her on Linkedin.
Reach Out
Ready to Build Something Great?
Partner with us to develop technology to grow your business.