How We're Building a Powerful Workplace Culture at LaunchPad Lab
By: Rebecca Jasch / October 1, 2021
At LaunchPad Lab, we've long believed that the physical location of where you do your work shouldn't matter. Many of our team members worked a hybrid schedule of partially being in the office and partially working from home even prior to the pandemic. 
We've continued to embrace this mindset by pivoting to a remote-first workplace — while also learning how to build a powerful, connected workplace culture as our team has grown. Below are a couple of the ways that we have worked together to unite our team members, regardless of the state they call home.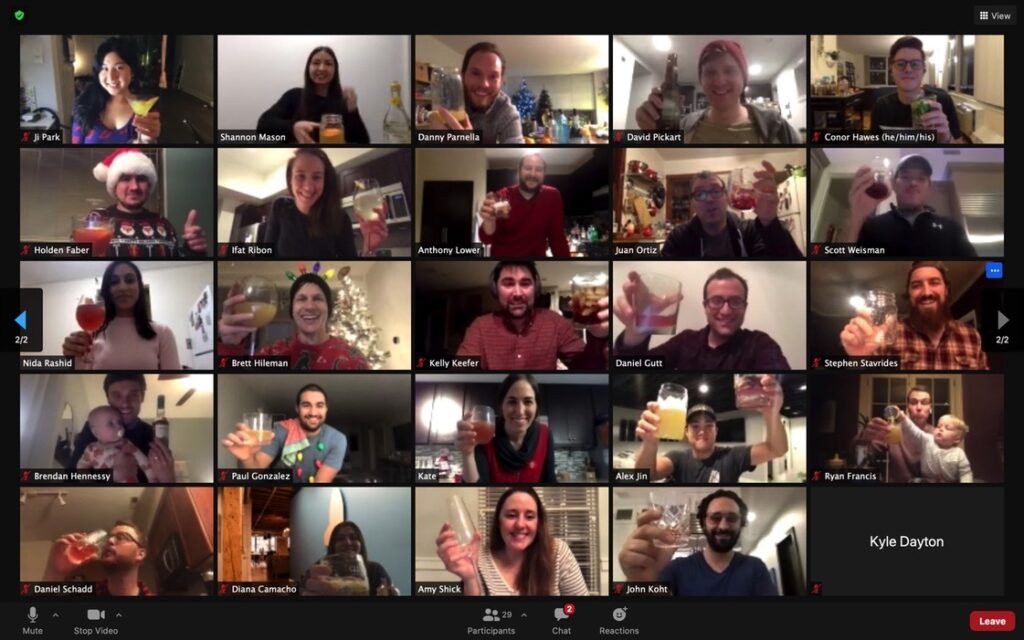 We create opportunities for connection — and development.
With almost 50 employees so far and more growth on the horizon, we've learned that creating opportunities for human connection in a remote workforce is vital — so we've developed a few options to create more frequent and intentional interactions between our team members.
It's Just Coffee
Prior to the pandemic, this used to be 'It's Just Lunch,' but the idea remains the same. Amidst all of the deadlines and client work, it's important to take some time to get to know our fellow team members, strengthen our culture, and bridge new friendships. If you choose to participate, you'll be randomly matched with another team member and have the opportunity to set aside 30 minutes or an hour to chat about anything. Our team recently created a Slackbot that handles this random assignment for us through our SPACE program!
Lunch and Learns
We create opportunities to show our team's personality through weekly Lunch and Learn events on Wednesdays. Some are educational and some are just for fun! A few of our favorites? Learning how to make neapolitan pizza, home kombucha brewing, and more!
Slack channels
Our team has created a wide range of slack channels for our team to collaborate in — both about work and personal interests. Anything from babies to fitness to city-specific happenings can be found in our channels — and more are popping up every month. Sure, it's not quite the same as an IRL water cooler chat — but sharing random details and fun life updates helps keep the team camaraderie alive and well.
Committees
Our team has launched a range of self-run committees that give team members time and space to bond over shared interests and more, such as our Culture Committee, Dev Committee, and Product Committee. Most of these committees run on a monthly basis and volunteers will present on trending topics or fresh ideas in the industry to provide opportunities for discussion between the attendees.
Quarterly Events
On top of having quarterly company updates, we also make a point to do some fun, team building events to bring everyone together. Most recently, our fantastic Business Operations Manager scheduled a space-themed virtual escape room for us. We used Zoom's breakout room function and collaborated with each other to see who could escape the quickest!
We celebrate experimentation and curiosity.
One of the core tenants of our internal work culture is SPACE, our internal innovation program where we experiment with new technologies, explore our passions, launch products, and simply have fun with our own ideas.
Here's how it works:
Pitch Day: Team members have the opportunity to pitch fun ideas they've been considering as a side project. Participants can select if they want to join a team and work with others or work on their own project.
Quarterly SPACE Time: In between client deadlines, we have 10 or so hours a week to spend as we choose for SPACE projects or personal development. This time is often spent hacking away on our side projects, eagerly awaiting when we can show our team what we've been working on.
Demo Days: These have actually evolved into Demo Weeks now that your team has grown, but our Demo Days offer a safe space for our team to launch new ideas, receive helpful feedback, and show off our creativity every quarter.
We're still adapting to the remote-first workplace we've evolved into, but we couldn't be more proud of the efforts we've made to stay connected with one another and enhance our culture with these fun events!
Interested in joining LaunchPad Lab?
View our open positions here.
Reach Out
Ready to Build Something Great?
Partner with us to develop technology to grow your business.